---
Wordpress Add Posts
Posts are nothing but articles you want to post maybe added with some images or videos. Whenever you add an article in your website, it gets displayed as a post.
They are sometimes referred to as blogs or blog posts also. You can add text, images, videos, graphics, audio, hyperlinks, whatever you want, which your post editor allows you to add in the post. Its your post that gets displayed to the user. It is very simple to add a post in your website in wordpress. Just follow the full tutorial and you will learn all the operation you can do in a post.
Following are the simple steps to Add Posts in WordPress.
Step 1 : Click on Posts → Add New
Step 2 : You will see the editor page of the Post as shown in the following screen.
This is the page where you will write and edit your post. All the changes you want to do will be carried out in thid editor.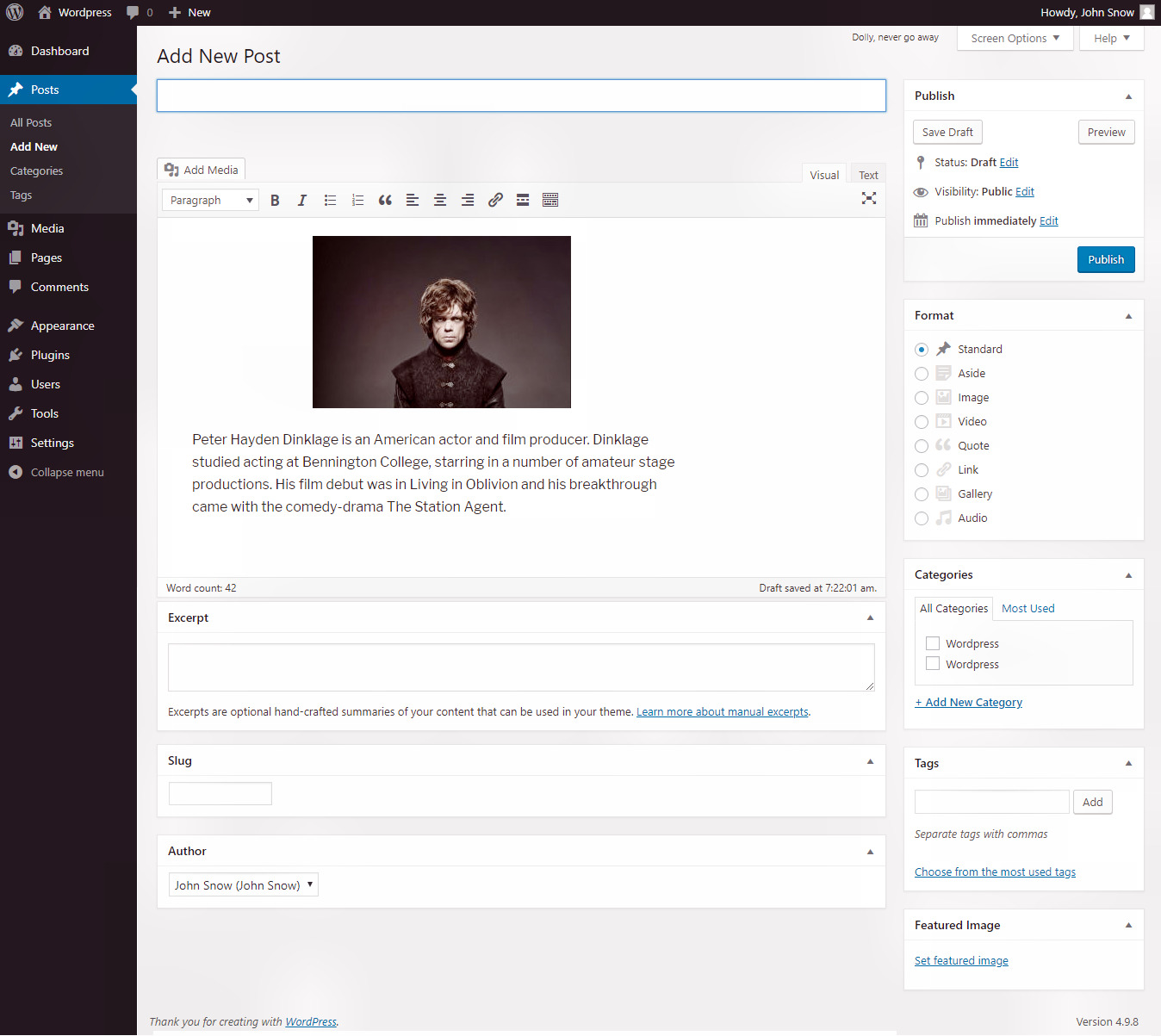 Following are the fields on the editor page of the Add Posts Page.
| Fields | Description |
| --- | --- |
| Post Title | Here you have to enter the title of the post, like, Peter Dinklage. |
| Post Content | Add the content of the post which you want to add in your website.. |
Step 3 : Click on Publish button to publish your respective post.
Suppose, you don't want to publish your post right now, and just want to save it anywhere to post it after sometime, then wordpress give you this option to save your article/post in the drafts section. A draft is a way to store the post in the database without publishing it in the website. The posts in the draft will be only visible to you and not to the users. There are some options you should know about, which wordpress provide you to manage your posts.
| Fields | Description |
| --- | --- |
| Save Draft | It saves the post as a draft. |
| Preview | It displays a preview of your post before publishing. |
| Move to Trash | It deletes the post from the website. |
| Status | It shows the status of your post to Published, Pending, or Draft. You can change the status also. |
| Visibility | It shows the visibility of the post like Public, Private or Password protected. You can edit the visibility also. |
| Published | It gives you option to publish the post at a particular time or date. |