---
WordPress Add Users
A user can also be added by admin himself or also by an individual himself. When a user get registered on your wordPress website, wordpress send an e-mail notification to the admin, so he always knows when a new users register, and then he can go to the Dashboard and edit the users' role.
We will see how an admin can add a user in the wordpress by the help of dashboard.
Following are the simple steps to Add Users in WordPress.
Step 1 : Click on Users → Add New in WordPress.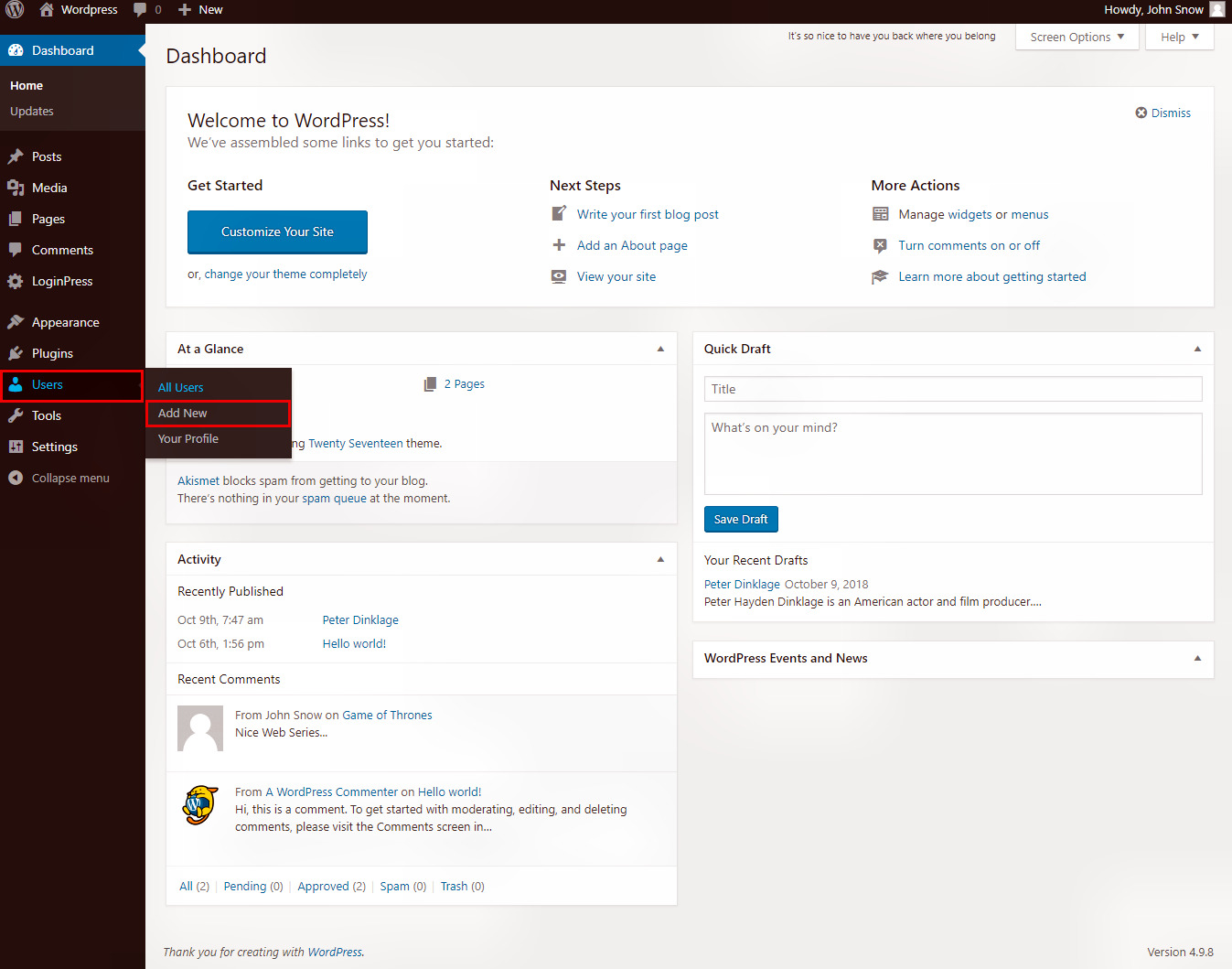 Step 2 : A form will get displayed in the screen, fill all the user detail. Fill in all the required fields (as seen in the image below) to proceed further.
Following are the fields you need to fill
| Field | Description |
| --- | --- |
| Username (required) | Enter a unique username for the user. |
| E-mail (required) | Enter a valid e-mail address. |
| First Name | Enter the user's first name. |
| Last Name | Enter the user's last name. |
| Website | Enter the URL for the user's website (if any)S. |
| Password | Enter the password. |
| Send User Notification | Check this checkbox to send user information to the New User by e-mail. |
| Role | Select the particular role from the dropdown, i.e., Subscriber, Contributor, Author, Editor, or Administrator. |
Click on Add New User button to add user to your users list.
Step 3 : You can look at the user list to see whether the user have been added or not. A message will also get displayed about addition of a new user. Look at the image below.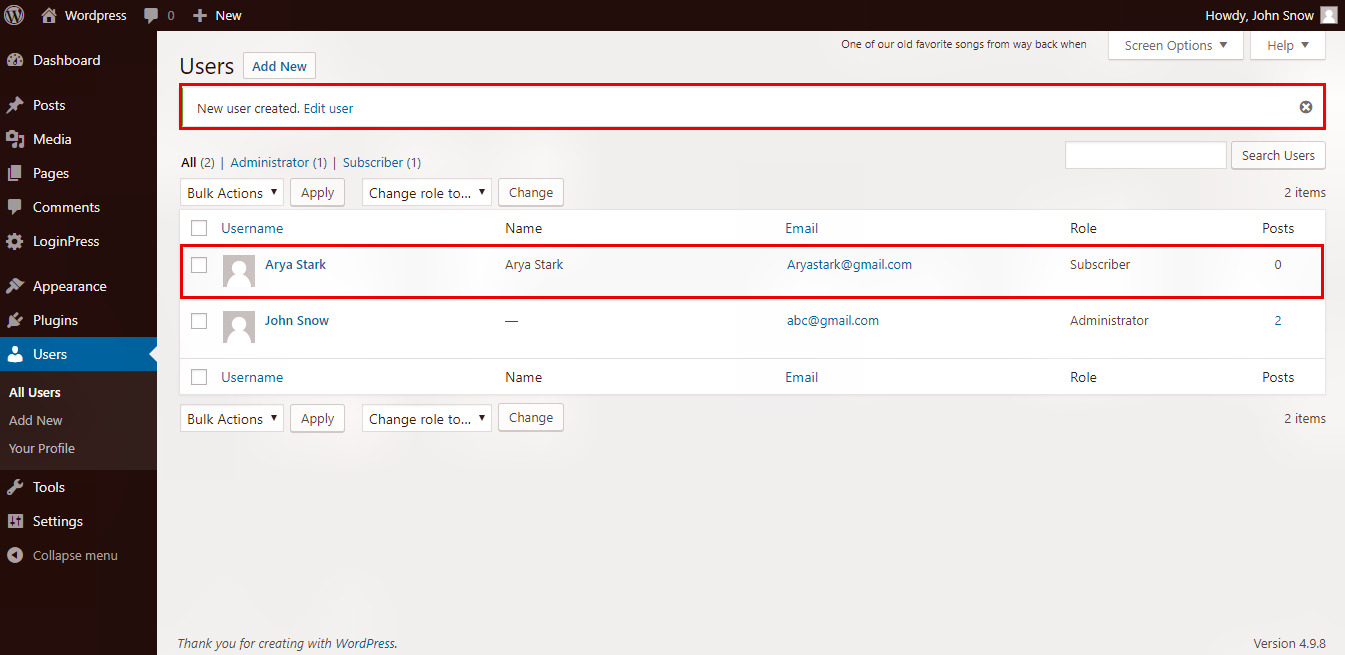 ---
WordPress User Roles
So everyone knows what a user is, as we all use computer systems. In a multiple user environment the user have different roles, like an admin, or a normal user. A role is nothing but a set of permissions given to different users to limit their access to various functions. Like an admin has all the rights to access anything or to modify any setting but any other user would have some limitations.
In wordpress also, there are users, every user can have its own account with different capabilities. An admin can assign different roles to different users.
Here are few pre-defined roles available in WordPress :
Administrator: An Administrator has all the rights and all the access in wordpress. An Admin has all the rights, such as creating more admins, adding more users and also removing them.

Editor: An Editor can only handle operations related to pages and posts. They have access to all the Posts, Pages, Comments, Categories, Tags, and Links. They can also Create, Publish, Edit or Delete any posts or pages.

Author: An Author has the permission of only Writing posts in Pages and Publish them.

Contributor: The Contributor works same as an Author but with a limitation of not having permission to publish the posts. They can only Write or Edit their posts until published. Even when they want to publish any post, it should be first approved by the administrator then only it will get published. Also a contributer cannot make any changes once the post is published.

Subscriber: These can only read and comment on the posts. These are the ones who have signed in to receive updates from your account.

Viewer: Viewers can only View the posts. They cannot edit but can only comment on the posts. They need not to be signed up like followers.
Everyone likes a profile picture on their account, right? So, go to the next tutorial.